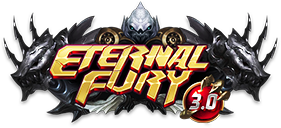 We want to thank all our players for supporting Eternal Fury! In Eternal Fury's new version 3.0, you will find amazing features that will transform the game without losing its essence. Log in to the game to start enjoying the new features!

Requirement: Reach certain character level in v3.0.
| Level Threshold | Recharge Total |
| --- | --- |
| 10 | 5% |
| 20 | 5% |
| 30 | 5% |
| 40 | 5% |
| 50 | 10% |
| 60 | 10% |
| 70 | 5% |
| 80 | 5% |
| Total | 50% |
Expiry: Apr. 1st, 2021
1. Only 1 v2.5 character (highest recharge character) will be counted towards the rebate.
2. Both v2.5 and v3.0 character must be on the same account.
Once per account only.


How to claim:
In-game "Event" panel. Items will be sent via mail.

1. What happens to my v2.5 character?
Your character will remain on the original server, nothing will change. :)
2. How do I participate in this event?
As long as you have a v2.5 character meeting the mentioned requirements, you will participate automatically.
3. Can I activate the event on any server?
Yes, however, you are required to be at least level 10 on any v3.0 server by April.
4. What if I can't reach level 80 by April?
You are not required to reach level 80 in a month. However, you are required to be at least level 10 on any v3.0 server by April to be eligible for the events.
5. Can I select in which server I want to activate my events?
Yes, on any server launched in March, you will be prompted by a popup once you reach level 10 on whether to activate the event. Beware, this prompt will only show up once per character.
6. Can I have those events separated between servers?
No, after you bind your character, both events will be shown to the same character.
7. Can I choose which v2.5 character will be the recharge rebate reference?
No, your character with the most recharge will be selected automatically in the events.
8. Can I have the rewards sent to a character on another account?
No, this event will only be available to the characters on the same account.
9. How do I find out more about this event?
You can reach us on Discord: https://discord.gg/VFMzFDqKq5 or send us a ticket.
10. What's the future of v2.5?
It will stay, and events/carnival will be hosted as normal, however, there may not be new features.
R2Games reserves the final explanation of this event.